Note To All: All medicine people that I personally know (All North and South America) have received the same orders as we 12 Inner Heyoka have: "You have one year to prepare." As of June 13th, 2007 ALL are now going into semi-retirement to prepare ourselves and our families to what will lie ahead at the end of that year.(Use this knowledge as you see fit.) r.e.
Red Elk, (Gerald R. Osborne) a half breed Medicine/Wakian man (spiritual teacher), belongs to three native American societies.
You can Email Red Elk at:
RedElk@Cleelum.com or Purity@RedElk.org
Phone:

509-674-6847

Home Address:


6780 Thorp Prairie Rd.
Cle Elum, WA. 98922
Note To All: I do not represent any Indian nation. I represent only the Inner Heyoka Society. Our orders do not come from man, but from the Creator only. In so doing, many traditional ways are 'stepped on'. If anyone has a complaint, go to the Creator and tell HIM. I will continue to do what I and the others are ordered.
Note To All: Red Elk goes by HIS givin ceramonial name, he is NOT a "Mr." Red Elk etc..
Also Red Elk is a breed...not a fullblood, and plainly states so.
It Is Time To Prepare

There Is Still Hope !

The Sky Is Not Yet Red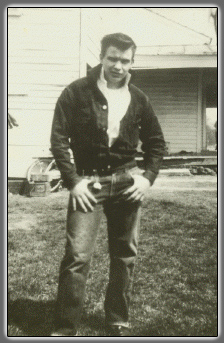 Red Elk at 17
Already considered 'fearless', with 7 years medicine training behind him, he would fight only if necessary but would mediate between rival gangs to quell fighting, Detroit, MI area.